Call For Ag Tech Startups: Apply To THRIVE's Open Innovation Forum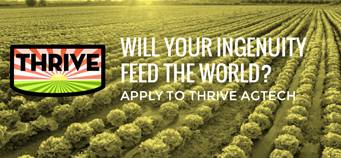 THRIVE is looking for high growth ag tech companies with an in-market solution that are positioned to scale. The top 50 will be invited to attend the THRIVE Open Innovation Forum and the top 10 will be invited to pitch.
THRIVE is specifically looking for startups with disruptive innovations in the following areas:
Big data analytics
Precision agriculture
Automation and robotics
Data security
Supply chain and distribution
Decision support technologies
Here's why you should apply today:
Make an impression. Last year we received hundreds of applications from 35+ countries around the world. A large majority wait until the deadline when our team is overloaded.
Get feedback today. We'll spend more time working through your application and can answer any questions you may have.
Make the move. Technology doesn't sleep — let's get started innovating on the #futureoffood.
Submit your solution here. Applications close November 30.
MORE BY MATT HOPKINS
Digital Farming
June 24, 2019
Market Intelligence
September 10, 2018
Farm to Fork
July 2, 2018
If your company is not ready for scaling yet, consider applying to the THRIVE Accelerator for Seed Stage companies.
About THRIVE
THRIVE connects the expertise of tech companies to on-the-ground knowledge of agricultural companies, the financial backing of investors, and the innovation of entrepreneurs. The THRIVE ecosystem brings these communities together to meet the global food demands of the future.