Opportunities are increasing for growers who want to turn their data into decision-making tools for their farm operations. Agronomics are critical, and the benefits are broadening to include seed selection, placement and population, in-season pest and nutrient monitoring and yield assessment. But many other benefits may be derived as well: risk management, insurance, equipment logistics and maintenance, and crop marketing may all benefit from accurate field and operational data.
To help growers understand more about the myriad data they collect and use, PrecisionAg.com is hosting a one day event: Big Data: Managing Your Most Elusive Farm Asset. The meeting will be held at the Scheman Center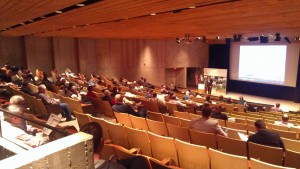 on the campus of Iowa State University on August 25, 2014 from 8:00 am – 4:30 pm.
"Growers will be the primary focus, but anyone involved in the production of crops will find something of interest at this event," says Paul Schrimpf, group editor of the CropLife Media Group, which manages PrecisionAg.com.
This meeting is designed to provide growers with the information they need to begin to take more control over data, whether they are going it alone or enlisting the help of a trusted adviser. Industry experts will join growers who've made significant strides forward on data management for a full day of discussion, learning and networking.
The agenda will include sessions covering the following topics:
Understanding The Value of Data
Data Ownership And Privacy
Best Practices and Continuous Improvement:  Data + Sustainability
The State of Data Standards in Agriculture
Empowering Data-Driven Decisions: Better Yield and Beyond
Key cooperators in the development of the agenda are Dr. Matthew Darr, Iowa State University, Dr. John Fulton, Auburn University, and Dr. Scott Shearer, The Ohio State University.
More information on the conference will be released in the weeks ahead. Registration is now open, click here for more information. Use the feedback form to sign up for electronic updates. If you have any immediate questions related to content or participation in the meeting, contact Dan Ulrich at 440/602-9183, or via email at [email protected].