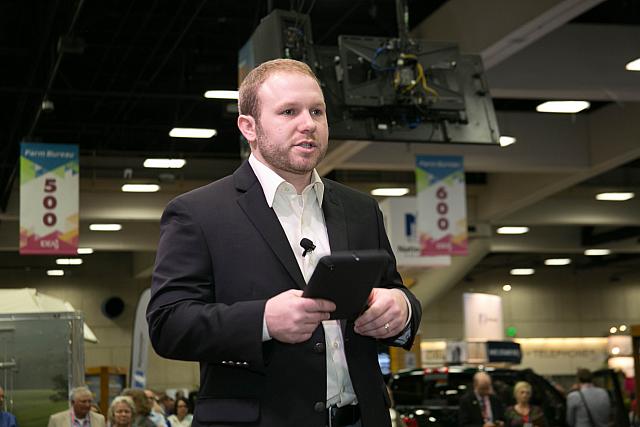 The American Farm Bureau Federation (AFBF) together with Georgetown University's McDonough School of Business Global Social Enterprise Initiative and Georgetown Entrepreneurship Initiative's StartupHoyas has announced the Farm Bureau Entrepreneur of the Year as part of the first-ever Rural Entrepreneurship Challenge. The winner was announced at AFBF's 96th Annual Convention and IDEAg Trade Show. Four finalists competed for the award by pitching their business ideas to a team of judges before a live audience.
ScoutPro of Lone Tree, IA, team lead Michael Koenig, was named Entrepreneur of the Year from a field of four finalists and received a total of $30,000 in prize money to implement his business idea, which is software to assist farmers with crop maintenance.
Pasturebird, LLC of Temecula, California, team lead Paul Greive, won the People's Choice award in the competition and $10,000 in prize money. Members of the live audience at the challenge finals competition and members of the general public voted online to select the People's Choice winner. Pasturebird is a cost-effective method of producing pastured poultry on a large scale.
"Rural entrepreneurs continue to be a major driving force in our nation's economy," AFBF President Bob Stallman said. "We congratulate all the finalists and wish them well in their future business endeavors."
The finalist businesses were chosen from more than 200 applicants. Golden Bridges, Inc. of Palmyra, MO, team lead Suzanne Ellerbrock, and Pulaski Grow of Pulaski, VA, team lead Lee Spiegel, were the other two finalists who competed in the final round of the challenge in San Diego.
"The seed money provided to entrepreneurs through the challenge will help them take their businesses to the next level, which can make a huge difference in small rural communities," said Jeff Reid, founding director of the Georgetown Entrepreneurship Initiative.
The Farm Bureau Rural Entrepreneurship Challenge is a key component of the Rural Entrepreneurship Initiative, a joint effort between AFBF and the Georgetown McDonough School of Business. The Rural Entrepreneurship Initiative is directly tied to AFBF's mission of building strong and prosperous agricultural communities.
In addition to the prize money awarded at the convention, each of the four national finalists received $15,000 in November for advancing in the competition.
Dr. Ron Leclerc, AgFunder; Amy Gales, CoBank; Mark Rockefeller, StreetShares.com; and Dr. Ron Hustedde, University of Kentucky and Kentucky Entrepreneurial Coaches Institute, judged the live finals competition. Dave Alwan of Echo Valley Meats, a cattleman and farmer featured on Shark Tank, served as moderator.