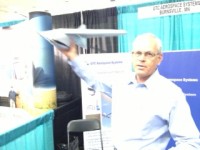 With the Federal Aviation Administration expected to open U.S. air space for the commercial use of unmanned aerial vehicles (UAVs) by 2015, a growing interest in this emerging technology has developed in the agriculture industry. This enthusiasm was on display at the InfoAg Conference in Springfield, IL, where five exhibitors (and one association) were on hand to answer questions and discuss their offerings with attendees.
UTC Aerospace Systems
UTC Aerospace Systems designs, develops and produces the Vireo and Optio (in development) families of unmanned aerial systems (UAS). The systems are designed as a low-cost tool to deliver actionable data to several industries, including agriculture. The UAS carries a variety of imaging payloads for day and night use, and sends imagery in real time through an open architecture datalink to a ground station where the data is used to assist in decision making.