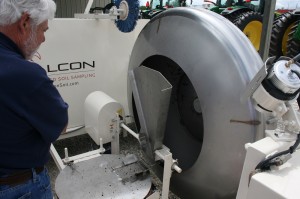 North Carolina grower Allan Baucom has what he feels is a better idea for automating soil sampling, and it's on display at the 2014 InfoAg Conference in St. Louis this week.
Called the Falcon, this system utilizes a ground-driven stainless steel drum and a single soil probe that collects a sample every 15 feet. The contents of the probe are deposited inside the drum, where the soil is homogenized by the spinning action. Once a sample set is collected the drum, spun by a 12-volt motor, deposits the soil into a funnel which empties into a sampling bag.
For a video demonstration of the system, click below.
https://www.youtube.com/watch?v=KEZy_Ne3Voc
For more information visit the Falcon website.