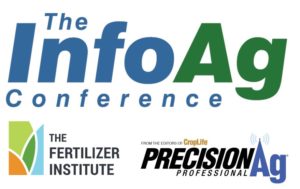 The InfoAg Conference is the longest running precision agriculture technology event in the U.S., presented by The Fertilizer Institute along with media partner PrecisionAg® Professional. With a focus on the application of technology to best agronomic and operational practices on the farm, InfoAg is an important event for precision-focused ag retailers, precision consultants, University/Extension, farmers, and all stakeholders in the manufacturing and implementation of precision products and practices.
PrecisionAg Professional is proud to serve as manager of the PrecisionAg Professional Tech Center within InfoAg featuring more than 100 exhibits and displays focused on product and service offerings available or in development.
For more information on the conference visit InfoAg.org.