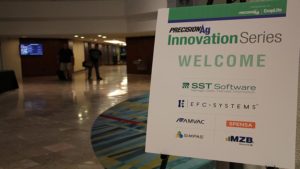 Precision ag technology integrators — those businesses providing agronomy services and technology consulting to farmers — can take advantage of a full day of learning and networking at the The PrecisionAg® Professional Innovation Series Conference,  February 22 at the Renaissance St. Louis Airport Hotel from 8:30 am – 6:30 pm.
The meeting will bring together experts and top precision service providers to discuss and share management practices that bring about successful business results.
The agenda is taking shape, and presenters and panelists  are signing on to lead the discussion. The day kicks off with a recorded interview featuring distribution channel expert Ron Farrell, who will share thoughts on why precision services and technology are critical to the sustainability of the service provider. Representatives of leading retailers and service providers, including Mid-Kansas Coop, GreenPoint Ag, Crop Quest, and ForeFront Ag Solutions will take the stage. Matthew Carstens, Senior Vice President of SUSTAIN at Land O'Lakes Inc. will join Tom Buman of Agren to discuss the role of the retailer in sustainability initiatives, and Mark Waschek of employment consultant Ag1Source will take on vetting, hiring and retaining top employees. Key agenda topics will focus on building and improving precision services, evaluating and changing enterprise software systems, the components of a successful precision program, new and emerging precision tools, and more.
"Technology in agriculture holds great potential, but its complexity requires that trusted advisers to farmers fully understand the products and options available," says Paul Schrimpf, executive editor of PrecisionAg Media, which is hosting the February conference. In 2017 the Innovation Series will focus on helping service providers to build solid, data- and technology-infused agronomic programs that deliver clear value to farmers."
Along with the learning and networking, breakfast, lunch, two breaks and a beer and wine networking reception are included in the registration fee.
Sponsors to date include EFC Systems, SST Software, and MZB.
For more information, visit PrecisionAgInnovation.com.