Top 5 Tech Trends In Precision Ag For 2012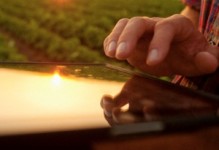 No matter what way you look at it, precision agriculture continues to play an ever more important role in the world today. Right now, precision ag technologies almost run the gambit of alphabet letters, from automatic steering to yield monitors. And each year, more and more customers get involved in the precision agriculture marketplace, looking for ways to maximize their profit ability through the use of technology.
"Growers have heard about the 300/100 yield initiative, and they want to start to pushing more and more on their yields … to maximize every acre, whether it's putting on fertilizer or pulling it away from an area of a field that is just never going to produce," says Brian Hunt, precision technology specialist for United Farmers Cooperative, York, NE. "We are getting to the point where every tractor, every combine, every piece of equipment growers buy touts that it can do variable-rate and other fancy stuff."
Of course, with so many options to choose from, some folks have probably wondered which ones are the most important to growers and ag retailers. For this reason each year, Precision Ag Special Report polls a handful of industry experts to find out which technologies have largely driven growth during the present year and why each is important to the marketplace's overall expansion.
MORE BY ERIC SFILIGOJ
Market Watch
January 25, 2017
Market Watch
August 12, 2016
Data Management
April 6, 2016
For our 2012 poll, somewhat surprisingly, precision ag technology market watchers said the five most important growth drivers were identical to those that drove growth in 2011. However, there were some major shifts in the order of importance each of these Tech Top 5 played in 2012 vs. 2011.
So let's review the findings.
1. Smart Devices
Did you ever happen to be up at 3 a.m. and found yourself watching some 1950s B-horror movie with the main character tied into some machinery against their will? Well, flashforward to 2012 and apparently being tied into everything through electronic means is exactly what the world-at-large wants. According to experts, smart devices are continuing their spread throughout the population — and they show no signs of slowing down.
"It seems everywhere I look these days, I see salespersons and growers with smartphones, tablets or both," says Sean Nettleton, technology & information management specialist for Wabash Valley Service Co., Grayville, IL. "The ability to receive and send information from anywhere is an amazing way to stay on top of what's happening in any given area."
Dr. Harold Reetz, president of Reetz Agronomics, LLC, Monticello, IL, also has seen this trend in action. "Smartphones, iPads, other tablets and related devices are becoming widely accepted and used by growers and their advisers and suppliers," says Reetz. "It is a natural step to apply the technology in our agriculture life as well."
Now that their popularity and usefulness to users has been established, both predict that precision ag manufacturers will begin to take utilizing these smart devices for their product offerings. "The one thing many people want — including myself — is more integration of the smart devices in the cab of the equipment," says Nettleton.
Reetz agrees. "Agriculture is riding the wave on the advancements in technology from society in general, and ag developers are taking notice of the opportunities," he says.
Reetz went on to say that he expects many companies to begin introducing "ag apps" for these kind of devices within the next year or so. "It is technology meeting a need rather than technology looking for a problem to solve," he says. "The learning curve is not very steep because these tools are all around us and we all use them every day in all aspects of our lives for communication, decision-making and documenting what we do."
And it seems as if this move toward ag-specific apps is already underway. According to Jeremy Wilson, technology specialist for Crop IMS, Effingham, IL, several software companies have released Android and iOS applications to document activities in the field the past 12 months.
"These new applications allow growers to collect information on a device that they use everyday and have with them almost everywhere," says Wilson. "As developers make these apps more robust, growers will have more data and new layers of information with which to make better management decisions."
2. Database Integration
As for 2011's No. 1 Tech Trend in precision ag — database integration — the past year has remained an active time. This is only natural, says Wabash Valley's Nettleton, because of what database integration means to many users of precision agricultural systems. "This is high on my importance list because as more and more growers begin collecting field level information, we have to have a way for all of this data to work together," he says. "Good integration allows for growers to choose equipment that best fits their needs as opposed to tying them to a specific brand or manufacturer."
Sid Parks, manager of precision farming for GROWMARK, Bloomington, IL, agrees that there is definitely a need for proper data management in the marketplace. "Not everyone needs RTK quality, but people see the value in data transfer and we have more interest from producers as well as our service providers," says Parks. "There is an increased desire for data analysis with the potential to tell producers what is working and where. This year will put a kink in data, but more people understand the power of what is potentially available."
However, in some instances, putting all this data together and getting an accurate "read" on what it means is still lacking. "Data management is an abhorrent topic in my area right now," says Nettleton. "As a whole, growers are doing a great job of collecting planting and harvest data, but as service providers, we need to continue to strive to provide our customers with value from this information. It's one thing to print a grower pretty maps from that information, but having the ability to dig deeper into all collected data and find trends in the data is another."
But progress has been made, depending upon who you ask. "Considerable progress has been made in developing and implementing tools and procedures for better integration of data," says Reetz. "This includes integration of various data sets on the farm, especially records across years and from different sources."
In addition, he adds, there have been many developments for the integration of data from off the farm. "This includes soil survey information, remote sensing imagery, local weather data and the like," says Reetz. "Fine tuning analysis and interpretation of this data depends upon continuously adding to these data sets. As more people — developers, growers and their advisers — learn the value of this data integration, precision farming will realize the real power of precision ag technology in guiding better-informed management decisions."
And the technology to deliver on this data integration promise is in the works, say experts. Already, some companies are experimenting with storing/processing their information using cloud-based systems and other forms of wireless data transfer.
"The past 12 months have produced new devices to move as-applied data and recommendations to and from the field," says Crop IMS' Wilson. "OEMs and aftermarket companies are working hard to capture data from field computers and then deliver it to growers. As cellular data transfer speed increases with the deployment of 4G technology, the capabilities of these tools will increase to soon allow the real-time transfer of application data."
Tim Norris, manager of Ag Info Tech, LLC, Gambier, OH, agrees with this view. "Telemetry and real-time data will be mainstream in the future," says Norris.
3. Variable-Rate Application (VRA) Seeding
As for the No. 3 trend on the Tech Top 5 listing, variable-rate application (VRA) seeding doesn't seem to enjoy the same widespread appeal as smart device adoption and database integration do. In fact, depending upon the market area being discussed, the usefulness of VRA seeding seems to be an open question.
"VRA seeding is a topic that continues to receive a lot of discussion, " says Wabash Valley's Nettleton. "However, it hasn't yet began to gain a ton of traction in my area. It is something that many growers are interested in, but we need to be basing recommendations on real data, and that is something that growers are still compiling."
Yet, in other areas, VRA seeding adoption isn't a problem. "In my opinion, the top trend for 2012 in precision ag is VRA seeding and the planting technology to correctly apply these recommendations," says Crop IMS' Wilson. "Several major seed companies and many consultants are working to provide the best VRA seeding recommendations to their customers. The planter equipment has also improved in the past couple of years to more accurately apply these recommendations and document the planter performance."
And this may prove to be one of the future growth areas for this technology going forward. As virtually everyone in the agricultural community knows, the Drought of 2012 has left many millions of acres of corn and soybeans across the Midwest in a terrible state. According to Reetz, this weather/crop negative may provide a precision ag positive in the years ahead for VRA seeding developments.
"This year's stress in many areas may change how VRA seeding is used," he says. "A big change in the future may be adding the ability to switch genetics on-the-go, to adjust for field variability in various stress factors. This one will be a slower adoption curve, but the interest is growing."
Wilson concurs. "The documentation being collected today from VRA seeding methods will help refine planting recommendations for future years," he says. "With the Drought of 2012, it will be interesting to see how these recommendations will perform under these types of conditions."
4. Guidance Systems
Although it only appears at No. 4 on the Tech Top 5 list for 2012, guidance systems adoption is incredibly widespread. In fact, according to the 2012 State of Precision Ag survey, conducted by sister magazine CropLife® this past spring, automatic steering systems are the most popular form of precision agriculture technology used by ag retailers and their grower-customers. In the survey, 76% of respondents said use some type of automatic steering in their equipment fleets.
Perhaps because of this widespread acceptance among users, market watchers say there haven't been many new developments in this area during the past year. "The most advancement has been in refining the technology," says Reetz. "Adoption continues to move forward, although this may be slowed somewhat by the poor growing season in many areas."
5. Boom Section Control
Finally, at No. 5 on the list, boom section control continues to expand. According to many industry insiders, the ability to turn certain parts of the boom arm on-and-off to avoid overlap spraying and waterways is only gaining steam as regulations concerning drift and application near water sources has become more strict.
But according to Reetz, the cost-savings such systems present to their users is also a big draw for continued adoption. "The savings in seed, fertilizer and chemicals make this one obvious," he says. "And with the larger swath widths, the need is even greater. I expect continued adoption of boom section controls by commercial applicators and growers in the years to come."
Speaking of the years to come, Reetz further predicts that the Drought of 2012 will shape many of the ag community's precision ag efforts in 2013.
"Next year, many growers and their advisers will be looking for help in more efficiently using nutrients that potentially carry over from 2012 in areas where crop yields have been depressed," he says. "Fine-tuning data on crop yields, fertilizer use, soil testing, etc. — used in conjunction with software tools for balancing nutrient needs, removal and application — will be important to making the right decisions for the 2013 season.
"Precision ag tools should be helpful for those who have the tools and the data from 2012 and previous years," he continues. "Those who have not adopted these precision management tools will be at a disadvantage in making the right decisions."