The Most Overlooked Asset in the Agtech Revolution
There is no doubt that advancements in genetics, precision agriculture, and innovative farming practices have all played an instrumental role in increasing field production. When examining field production in the U.S., it is clear the agriculture revolution that has been unfolding over the past century has dramatically increased the output of crops.
For example, in the case of corn, the average crop yield has increased a staggering 4x from 1960 to 2017 (see chart below). No small feat.
But have agriculture operations kept pace with this speed of change? Let us take a closer look.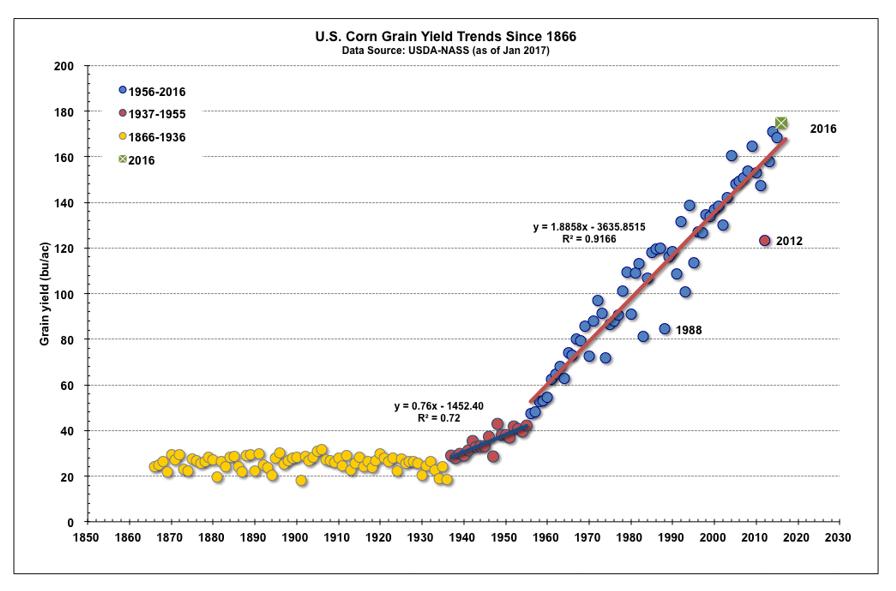 MORE BY TIM MARQUIS
Data Management
May 10, 2018
Data Management
April 12, 2018
Data Management
March 15, 2018
Key Considerations in Agriculture's Digital Transformation
When growers successfully harvest their grain, they then have to transport it to elevator facilities that are specifically designed to prepare or store grain for further processing. Some of the largest types of these facilities were created way back in the 1920s and contain an approximate capacity of up to 80 million bushels. The crop is blended with other grains from the surrounding area and then shipped out to processing plants via rail, barge, or truck.
The entire operating model of elevator facilities is based on high quantity and low margins. With grain yields skyrocketing and new production innovations impacting the field, a number of roadblocks have emerged with regard to getting grain out of fields and into processing facilities:
1) Wait times: Growers have become increasingly aware that the amount of trucks entering co-op elevators has grown substantially in recent years. The corresponding travel times and wait times are slowing down harvest and starting to impact growers financially. Due to such high production and low margins, elevator facilities are not particularly compelled to increase the speed at which they ingest grain. Furthermore, if growers decide to store their grain directly on their farms or simply use another elevator service, then that facility can easily find other growers to use its services.
2) Digital ticketing: I have toured elevator facilities and found that many are still running ticketing systems that rely on physical, printed tickets. This creates many challenges. By relying on paper-based ticketing systems and having to manually key in contracts into old software programs, it causes a severe lack of digital transparency for growers. On top of this, tickets can be lost by drivers, requiring phone calls and coordination to resolve. The results are that growers can struggle to know how many contracts they have open and what their due dates are. While the technology exists and is readily available to solve this problem, due to the small margins of elevator facilities, they feel they do not have adequate capital to invest in such solutions. The reality is that between today's powerful, readily available hardware and software, an elevator facility could fully automate its inbound and outbound ticketing processes, which would provide instant transparency for their growers.
3) Aging labor: Many smaller, rural elevator facilities are facing a harsh reality. Their surrounding populations are aging and finding enough staff to manually operate their elevators is becoming a pressing issue. Frankly, the fact of it is this: It is a very demanding job that the average person probably does not want to do – working atop manual distributors, being exposed to dust and dealing with the risk of potential explosions. When you factor in the low commodity prices and the increased labor costs just to hire adequate help during peak season, it becomes clear why many small local elevators are selling to larger trading outfits or abandoning their facilities all together.
4) Rise of on-farm storage: Growers are starting to recognize that there are cheaper options available to them, such as bagging their own grain or installing steel storage facilities directly on their farms. This allows them the freedom to self-sufficiently monitor their own grain quality, sync with different buyers, and offer a premium for high-quality grain. While current commodity pricing may have put a damper on growers' ability to afford on-farm storage, there is no denying that they are realizing the value in the opportunity. On top of this, digital crop-marketing tools are putting even more control into the hands of farmers who can now depend less on an elevator facility's services.
Creating a Brighter Future for Agriculture
Despite the current landscape of low commodity prices, today's elevator and processor facilities still have a big opportunity in front of them. If the agriculture industry wants to achieve true blockchain transparency, then the present operating model must change.
Change starts with automating the old, manual systems and addressing the aging workforce problem. Larger elevator facilities have already started to do this, especially when it comes to digitizing their operations. The good news is that getting started has never been easier – there are plenty of engineering firms that have emerged to support these specific needs.
Predictive maintenance tools are another promising resource with the potential to improve agriculture operations. Not only do they offer powerful capabilities for predicting and preventing problems before they occur, they have the added benefit of being able to remotely monitor agriculture equipment and components such as belts, buckets, and bearings. Coupled with digital ticketing systems, the operational ecosystem as we know it can be significantly enriched by leveraging data from connected Internet of Things (IoT) devices such as fleet monitoring, digital scales, and probes.
Digitizing elevator facilities will allow for inbound and outbound processing 24/7, without needing to hire full-time staff to operate each location at all times. Growers, meanwhile, would gain new efficiencies and not have to wait in long lines. Processing facilities would also benefit from a logistics standpoint by being able to time orders to their plants.
Agriculture operations that digitally transform will be able to capitalize on the fast-moving market by accepting higher-quality grain and selling it much quicker. Since elevator facilities are typically located along key transportation infrastructure, they by their nature offer a more effective solution than individual on-farm storage. But they must adapt fast to the rising competition.
Which parts of the agriculture ecosystem recognize this opportunity and are willing to adapt to survive?