Rebounding Spring for 2018 Planting: Cold April Weather Finally Gives Way to Promising May Forecast
This month, I am taking a break from discussing weather technology or opining on how to better apply weather and soil information to agricultural problems. Instead, I am awakening my inner "weather weenie" to discuss our recent weather patterns and what we expect in the next couple of weeks.
This past April ended up being the 13th coldest April on record for the contiguous 48 states, and the second coldest across the Corn Belt, according to the NOAA National Centers for Environmental Information. Typically, planting of corn throughout this region starts in mid to late April. This year, however, there was still snow on the ground across the western half of the corn belt, as shown in the NOAA snow depth analysis for April 15, 2018 and I expect many producers across this region were anxious to start planting.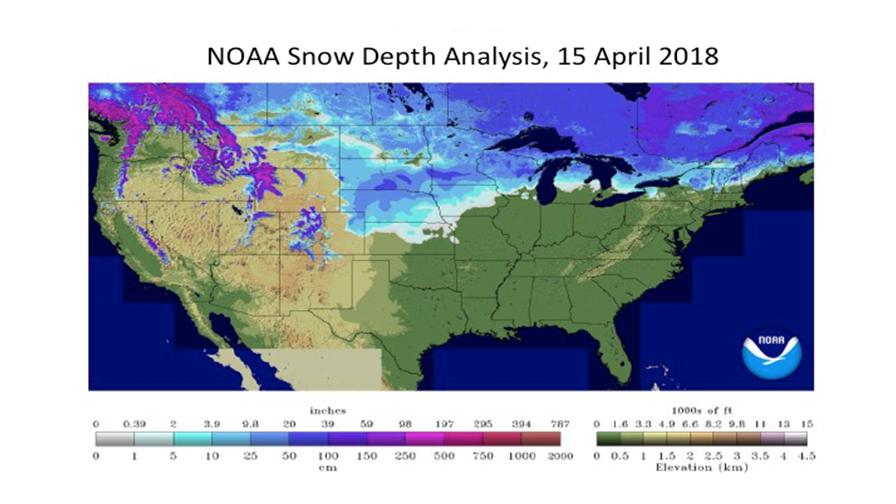 The cold temperatures and snow cover resulted in much colder than normal soil temperatures over a large portion of the U.S., as depicted in the 15 April 2018 actual and climatological average maps below, which only show areas where soil temperatures exceed 40°. Corn germinates best when soil temperatures exceed 50° (Fahrenheit), and with the exception of the extreme southeastern portions of the corn belt, temperatures were much lower. In fact, the northern and western portions were well below 40° due to the snow cover. Many were probably starting to wonder if we would have a lot of late planting and then speculating if that might reduce yield, a commonly held view. On that topic, I would like to refer you to a recent interesting article by my colleague, Dr. John Mewes, who found that this may not necessarily be true.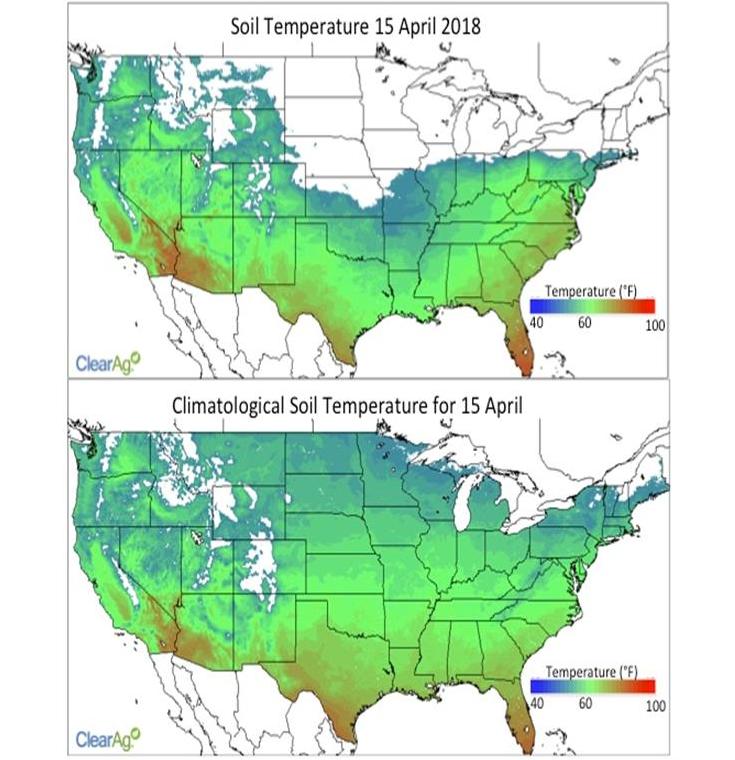 MORE BY BRENT SHAW
Analytics
October 16, 2018
Data Management
September 18, 2018
However, conditions recovered quickly. By May 1, the entire Corn Belt was snow free, the weather had warmed up, and soil temperatures had warmed to above normal values across much of areas. Unfortunately, part of the soil's rapid warming may be at least in part due to the Corn Belt also being drier than normal across April, with NCEI's data showing it to be the 23rd driest April on record. In fact, you can visually see a good correlation between the area of very warm soil temperature and the area of severe to exceptional drought stretching from the southwestern Great Plains northeastward across Kansas, Missouri, and southern Iowa. It would seem like planting may or could have been done almost on schedule, thanks to the rapid warm-up.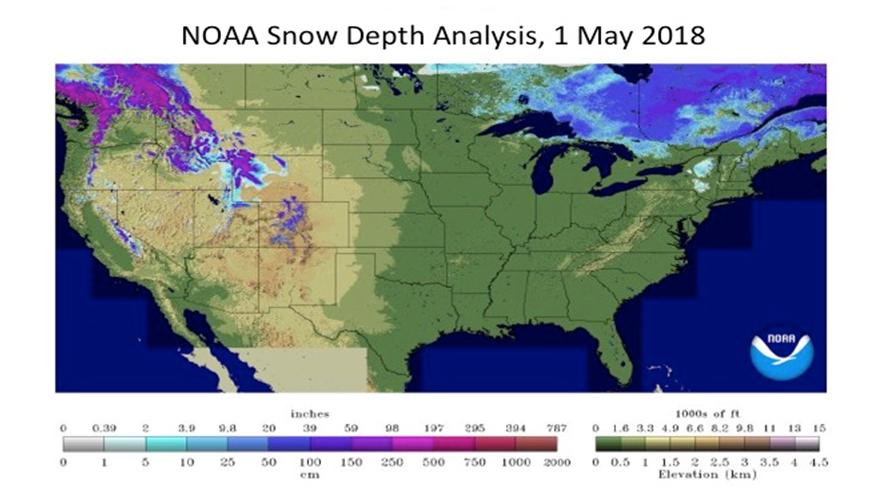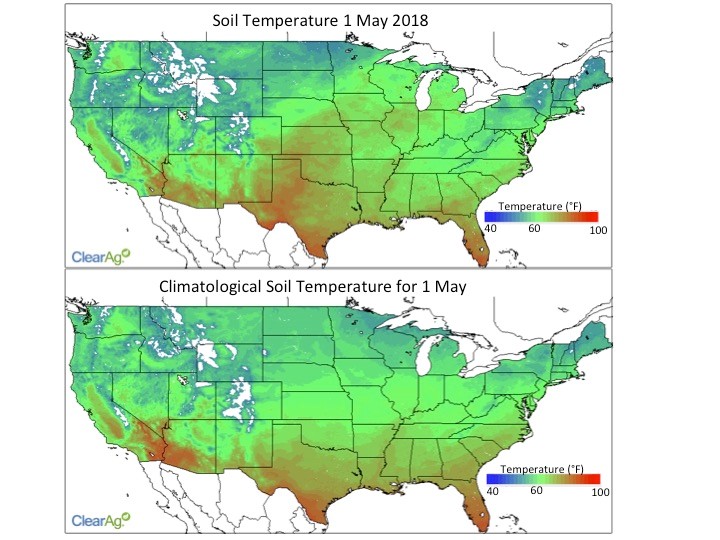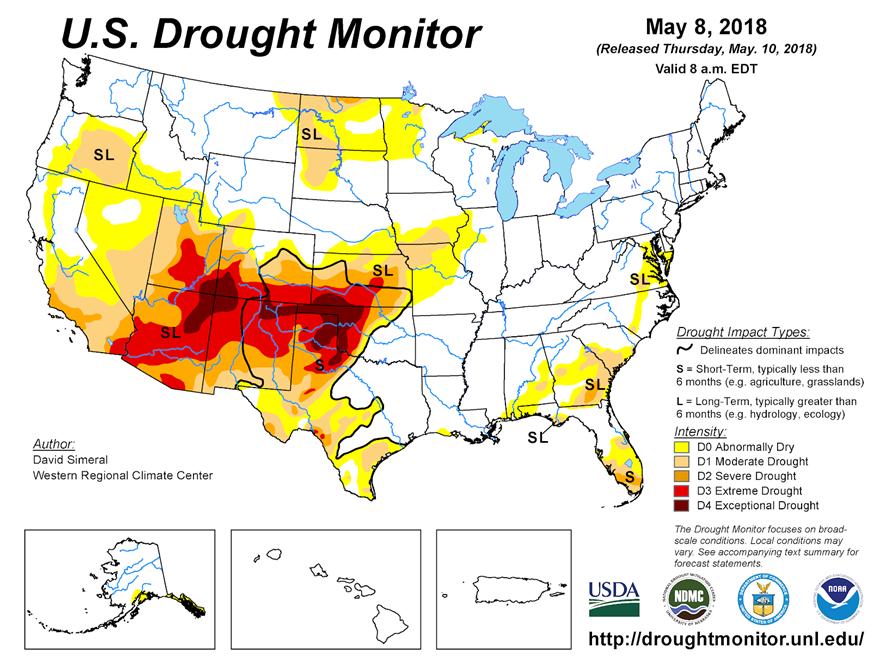 So, what is in store for the rest of May? It looks like it should remain warm, most likely above average, for the eastern two-thirds of the country. We also should see some relief in the drought-stricken areas due to a persistent low pressure area over the western U.S. that will set up for daily shower and thunderstorm activity across the Southern and Central Plains. The 16-day total rainfall forecast from NOAA's Global Forecast System (GFS) covering the period from 11-27 May is shown below. While the details may not be right, I would expect the overall pattern is likely to pan out similar to what is shown. Hopefully we can get some good soil and aquifer recharging without creating areas of flooding or unworkable fields for extended periods. Spring is definitely here to stay finally, with more active weather!