HarvestMaster Announces Mirus Harvest Data Collection Software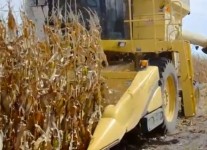 HarvestMaster, a division of Juniper Systems, announces Mirus harvest data collection software as the latest addition to its research agriculture solutions offering. Mirus is an all-in-one software designed to collect and view harvest data in real time. The Mirus software is compatible with the industry leading HarvestMaster HM800 GrainGage systems.
"The HarvestMaster team is excited about the release of the new Mirus software," said Keith Hunt, Agriculture Product Manager. "As an all-in-one software solution, Mirus has come together as a culmination of user input and the latest technologies available. We believe Mirus to be the new standard in harvest data collection software."
Mirus features include large, easy-to-read screens, capable of showing multiple data screens simultaneously for more efficient operation. Step-by-step calibration wizards for all sensors ensure easy calibration of the GrainGage system. The intuitive user interface of Harvest Master's Mirus software is tailored to combine operators, promising ease-of-use and simple adoption into harvest data collection processes.
MORE BY MATT HOPKINS
Market Intelligence
September 10, 2018
Farm to Fork
July 2, 2018
Market Intelligence
March 21, 2018
Mirus software has become the new standard in harvest data collection by providing the following:
Compatibility with Windows laptops and tablets running Windows XP, 7, or 8.
Ability to generate and import maps, and collect and export data.
Simultaneous views of four different harvest information screens.
Graphical and spatial display of data.
Ease of viewing diagnostic screens while in harvest mode.
Step-by-step wizards for weight, moisture and test weight sensor calibration.
Combine operator rated observations.
Operator Quick-Notes on individual plots.