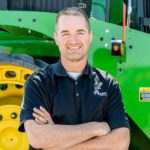 Joel Kaczynski is Product Specialist Manager for
RDO Equipment Co.
and based in Moorhead, MN. Starting in a sales role at RDO 15 years ago, Kaczynski built on his passion and focus on agriculture technology to become RDO's leader of the agronomy and precision product specialist teams. He holds two agriculture accreditations: the Certified Crop Advisor (CCA) and Precision Ag Specialty Certification (PASp), both of which, while not required for his role, are important to his focus and responsibility of staying on top of rapidly growing precision agriculture technology and solutions. Email Joel at
[email protected]
. To learn more about precision agriculture offerings from RDO Equipment Co., visit
www.RDOequipment.com
or contact your
local RDO Equipment Co. store
.
In-Field Technologies
June 24, 2019
SUBSCRIBE TODAY TO RECEIVE