PrecisionAg® Webinars
Register for one of our upcoming Webinars or access our archive of past Webinars to view recordings of presentations that may be of interest to you.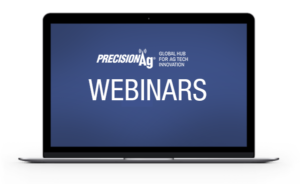 ---
Using Data to Benchmark Your Farming Operation
Now On Demand | Original air date: February 19, 2018
Data collection, analysis and benchmarking are key to achieving and sustaining continuous improvement in the production of soybeans. Dr. Joe Luck, Associate Professor of Biological Systems Engineering, and Precision Agriculture Engineer at the University of Nebraska, will discuss the various tools and techniques required to establish a valid data benchmarking program. Using examples of data applications from farm research studies focused on soybeans, he will show how data can be used to gather knowledge to improve production, and build a more sustainable farming operation.
Presented by the American Soybean Association and the United Soybean Board
---
Now On Demand | Original Air Date: November 13, 2017
With ever-increasing amounts and types of data being generated on farms, and real value created from it, who controls and has access to the various data sets? These include yield and as-applied maps, soil test results, various sensor readings, tractors/implements beaming up engine and other data — and more. Data is being generated by farmers, input suppliers, and often being managed by a data service provider. Our panel members will stimulate your thinking on how you manage and provide access to data in your business or on your farms.
Approved for 1 CEU in Professional Development
Registration courtesy of PrecisionAg Professional
---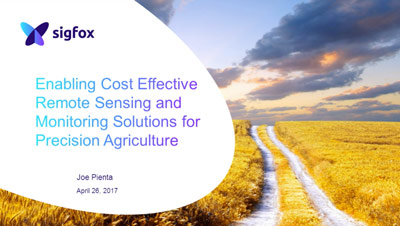 Enabling Cost Effective Remote Sensing and Monitoring Solutions for Precision Agriculture
Now on Demand | Original Air Date: April 26, 2017
New technologies are enabling remote sensing and monitoring capabilities for precision agriculture. But what exactly are these new technologies, how do they work, how do you implement the technologies, and take advantage of them? As with any new technology, it can be a little overwhelming.
In this webinar, we'll provide an overview of precision agriculture remote sensing and monitoring solutions, addressing the who, how, and what questions. Beyond that, we'll discuss the main reasons remote sensing and monitoring solutions are critical to precision agriculture; timely insights on crops and assets to minimize operations cost and increase yields. We'll also showcase examples of these technologies.
Registration courtesy of SigFox
---