From Space to Field: How Productive Were You in the Past?
At Planet, we collect imagery from around the globe every day…and our imagery archive is growing. This robust imagery dataset, while global in scale, allows you to examine changes at the local level over time. In this "Space to Field" update, we examine how past, archival imagery can help you pinpoint yield potential in an individual field.
Yield influencing site characteristics such as soil fertility and topography differ widely, even within an individual field. Management zones are smaller portions of a field that represent areas experiencing a similar combination of yield-influencing factors, which result in a unique yield potential.
Knowing the variability of the yield potential within a field allows farmers to adapt their field management decisions accordingly and make better use of precision farming technology. Management zones can help farmers and their advisors to determine the optimal amount of fertilizer for each location and enable them to plant crop hybrids that best match to the yield potential of the particular area.
Setting up a management zone in an individual field is challenging. Remote sensing imagery allows for estimating seasonal crop productivity by means of spectral vegetation indices, serving as a viable data source that relates directly to final yield. However, delineation of a decent and stable management zone requires the integration of many years of historical data on productivity. The more archival data you have—the easier it is to reduce spatial variations caused by extreme climatic conditions and other anomalies.
The combination of multiple years of archival imagery data helps us create average relative productivity maps, which can be clustered according to the farmer's needs (Fig. 1).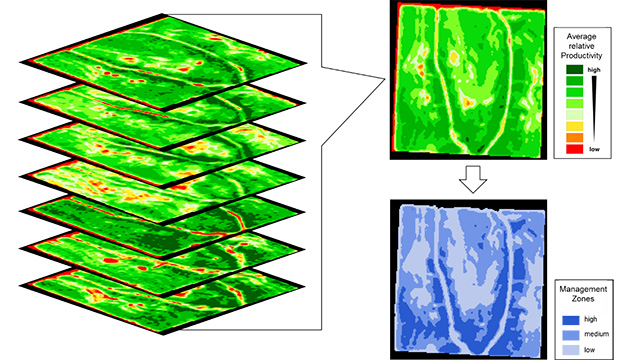 Planet's huge imagery archive dating back to 2009 enables precision farming dealers to offer great value to farmers, helping them set up management zones in their fields. These zones can help initiate a variable rate management strategy on farms at the beginning of the season in a very cost-effective way. As more seasonal data gets added to fine-tune the management zone, average yield and net return should go up as inputs are applied closer to what the crop needs in specific areas.