From Space to Field: How green and productive are you today?
By: Erik Zillmann
At Planet we want to explain how our satellite imagery can be used to assess productivity of crops and to identify site-specific issues that can be addressed by corrective management decisions.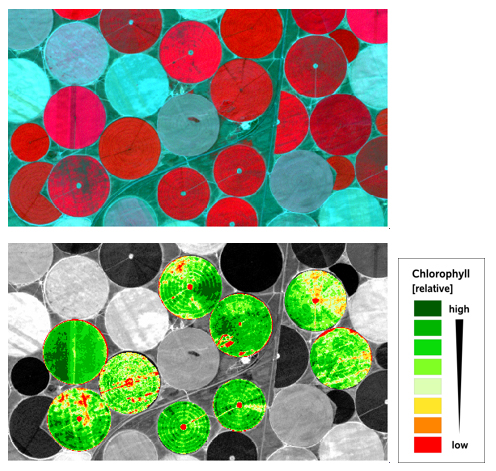 Earth-imaging satellites measure the spectral reflectance of a crop's canopy, which is a function of the leaf area index (LAI) and the leaf chlorophyll content. Put in simple terms, the product of leaf chlorophyll content and LAI determines the crop's productivity, which is prime of interest to farmers. Classical vegetation indices that are a combination of visible and near-infrared (NIR) reflectance are sensitive to changes in canopy greenness, but their main disadvantage is that they often lose their sensitivity relatively early when the LAI increases.
It has been proven that vegetation indices using the Red-Edge reflectance in combination with NIR are more sensitive to small variations in the chlorophyll content, and therefore allow for more accurate estimations of crop productivity. Productivity maps derived from Planet imagery using the Normalized Red-Edge Vegetation Index (NDRE) provide accurate and date-specific status information on the relative in-field variability. Providing this unique map helps growers make impactful decisions in the field.
Instead of providing absolute measurements, relative values are displayed in a clustered distribution to accentuate the in-field variability in order to support efficient field-scouting and crop diagnostics. Farmers can efficiently calibrate the derived zones to actual field conditions by obtaining only a few chlorophyll measurements in different zones in order to generate a simple calibration function. The calibrated maps provide farmers with continuous information about the chlorophyll content of the entire field and allow for making decisions on N-recommendations adapted to the actual situation in the field to reach the defined yield goals.
In-season remote sensing measures have been proven to be far superior for the characterization of current in-field variability compared to other site characteristics such as soil properties and topography. This in-season remote sensing is made possible by many satellites rather than a few, ensuring imagery and data are collected frequently and at the right times in the growing season. And when this data is delivered quickly to agronomists and growers through the Planet software platform and API, decisive action can be taken that improves yields.